Deen Assalam MP3 Download
Deen Assalam MP3 Naat By Nissa Sabyan
Listen online or download this beautiful Naat sharif in the beautiful voice of Nissa Sabyan.
Deen Assalam is a Naat recited by Nissa Sabyan. Listen this Naat online or download in MP3 format from thenaatsharif.com
Deen Assalam is one of the best MP3 Naat by Nissa Sabyan.
Deen Assalam Mp3 Download By Nissa Sabyan
Deen Assalam, the religion of peace. let's spread it in good deeds and speak in good languages,
thanks to Sabyan friends and the lovers of sholawat and gambus music, who always support us,
hopefully, our works can always be enjoyed and liked.
Music: Sabyan Gambus
Video : Inemamotion :
Makeup: Sabyan Makeup
Deen Assalam MP3 Download
To Download Deen Assalam in MP3 format, please click on the below image.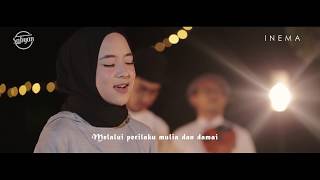 Deen Assalam Lyrics
كَلَّ هَذِى الاَرْضِ مَاتَكْفِيْ مَسَاحَةْ
لَوْ نَعِيْشِ بِلَاسَمَاحَةْ
وَانْ تَعَا يَشْنَا بِحَبْ
لَوْ تَضِيْقِ الاَرْضِ نَسْكَنْ كَلَّ قَلْبْ
كَلَّ هَذِى الاَرْضِ مَاتَكْفِيْ مَسَاحَةْ
لَوْ نَعِيْشِ بِلَاسَمَاحَةْ
وَانْ تَعَا يَشْنَا بِحَبْ
لَوْ تَضِيْقِ الاَرْضِ نَسْكَنْ كَلَّ قَلْبْ
اَبْتَحِيَةْ وَبْسَلَامْ
اَنْشُرُوْا اَحْلَى الْكَلَامْ زَيْنُوْا الدِّنْيَا حْتِرَامْ
اَبْمَحَبَّةْ وَابْتِسَامْ
ااَنْشُرُوْا بَيْنِ الاَنَامْ هَذَا هُوْا ديْنَ السَّلَامْ
كَلَّ هَذِى الاَرْضِ مَاتَكْفِيْ مَسَاحَةْ
لَوْ نَعِيْشِ بِلَاسَمَاحَةْ
وَانْ تَعَا يَشْنَا بِحَبْ
لَوْ تَضِيْقِ الاَرْضِ نَسْكَنْ كَلَّ قَلْبْ
اَبْتَحِيَةْ وَبْسَلَامْ
اَنْشُرُوْا اَحْلَى الْكَلَامْ زَيْنُوْا الدِّنْيَا حْتِرَامْ
اَبْمَحَبَّةْ وَابْتِسَامْ
ااَنْشُرُوْا بَيْنِ الاَنَامْ هَذَا هُوْا ديْنَ السَّلَامْ
ديْنَ السَّلَامْ
اَبْتَحِيَةْ وَبْسَلَامْ
اَنْشُرُوْا اَحْلَى الْكَلَامْ زَيْنُوْا الدِّنْيَا حْتِرَامْ
اَبْمَحَبَّةْ وَابْتِسَامْ
ااَنْشُرُوْا بَيْنِ الاَنَامْ هَذَا هُوْا ديْنَ السَّلَامْ
اَبْتَحِيَةْ وَبْسَلَامْ
اَنْشُرُوْا اَحْلَى الْكَلَامْ زَيْنُوْا الدِّنْيَا حْتِرَامْ
اَبْمَحَبَّةْ وَابْتِسَامْ
ااَنْشُرُوْا بَيْنِ الاَنَامْ هَذَا هُوْا ديْنَ السَّلَامْ
ديْنَ السَّلَامْ
Popular Tags
Deen Assalam Mp3 Download
Download Deen Assalam in Mp3
Nissa Sabyan Mp3 Naats
Download Nissa Sabyan Mp3 Naat "Deen Assalam"