Bismillah MP3 Download
Bismillah MP3 Naat By Nissa Sabyan
Listen online or download this beautiful Naat sharif in the beautiful voice of Nissa Sabyan.
Bismillah is a Naat recited by Nissa Sabyan. Listen this Naat online or download in MP3 format from thenaatsharif.com
Bismillah is one of the best MP3 Naat by Nissa Sabyan.
Bismillah Mp3 Download By Nissa Sabyan| BISMILLAH – SABYAN |
Vocals: Nissa Sabyan
Keyboard: Ayus Sabyan
Darbuka: Kamal Sabyan
Music: Sabyan
Video: inema
Studio: inema studio
Bismillah MP3 Download
To Download Bismillah in MP3 format, please click on the below image.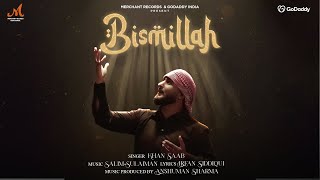 Bismillah Lyrics
Dengan menyebut nama-Mu
Berlindung ku sepanjang waktu
Agar kuingat selalu
Dan berharap ridho-Mu
Awali kebaikan dengan Bismillah
Serahkan semua pada Allah semata
Akhiri ucaplah Alhamdulillah
S'gala puji hanya milik Allah
Kagumi kebesaran-Nya
Pencipta alam semesta
Dzat Yang Maha Sempurna
Tak ada yang menandingi-Nya
Awali kebaikan dengan Bismillah
Serahkan semua pada Allah semata
Akhiri ucaplah Alhamdulillah
S'gala puji hanya milik Allah
Awali kebaikan dengan Bismillah
Serahkan semua pada Allah semata
Akhiri ucaplah Alhamdulillah
S'gala puji hanya milik Allah
Awali kebaikan dengan Bismillah
Serahkan semua pada Allah semata
Akhiri ucaplah Alhamdulillah
S'gala puji hanya milik Allah
Awali kebaikan dengan Bismillah
Serahkan semua pada Allah semata
Akhiri ucaplah Alhamdulillah
S'gala puji hanya milik Allah
Awali kebaikan dengan Bismillah
Serahkan semua pada Allah semata
Akhiri ucaplah Alhamdulillah
S'gala puji hanya milik Allah
Popular Tags
Bismillah Mp3 Download
Download Bismillah in Mp3
Nissa Sabyan Mp3 Naats
Download Nissa Sabyan Mp3 Naat "Bismillah"