Hammad Roohani MP3 Naats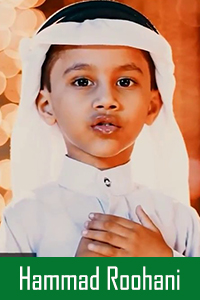 Hammad Roohani is a kid naat khawan. His most melodious and cute voice has gained great love from all over the world. Children especially like his naats and duas. His dua "Main be rozay rakhunga" which was released in the year 2019 in the month of ramzan remained popular among kids of all ages. His other dua "Main hafize Quran banu ga" has also been popular in 2018.
He has a very soulful voice. Hammad Roohani interest in naat khawani will lead him to everlasting respect and love. Here we have compiled a number of naats, nasheeds, and hamds by hammad rohani, which our audience can listen to for free and appreciate and love Hammad for his talent.
.
Listen online or download the huge collection of latest MP3 naats in the superb vocals of Hammad Roohani