El Oum MP3 Download
El Oum MP3 Naat By Nissa Sabyan
Listen online or download this beautiful Naat sharif in the beautiful voice of Nissa Sabyan.
El Oum is a Naat recited by Nissa Sabyan. Listen this Naat online or download in MP3 format from thenaatsharif.com
El Oum is one of the best MP3 Naat by Nissa Sabyan.
El Oum Mp3 Download By Nissa Sabyan | ALBUM
Bismillah | 2022
El Oum MP3 Download
To Download El Oum in MP3 format, please click on the below image.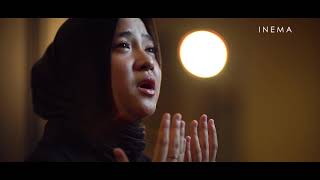 El Oum Lyrics
Ku tak tahu kau dimana
Kau pergi saat ku tak ada
Ku tahu duniamu terluka
Namun tak begini
Caramu tinggalkan ku pergi
Hanya doa yang ku punya
Tuhan jaga ia
Rabbighfirli waliwalidayya
Warhamhuma kama rabbayani shaghiran
Rabbighfirli waliwalidayya
Warhamhuma kama rabbayani shaghiran
Masihkah kau anggap ku ada
Ingatkah kau penuh ku manja
Izinkan ku membuatmu bahagia
Karena kini ku tak seperti yang kau kenal dulu
Hanya doa yang ku punya
Tuhan jaga ia
Rabbighfirli waliwalidayya
Warhamhuma kama rabbayani shaghiran
Rabbighfirli waliwalidayya
Warhamhuma kama rabbayani shaghiran
Jika kau masih di dunia
Pulanglah kepadaku
Jika kau tlah tiada
Kuingin jumpamu di surga
Rabbighfirli waliwalidayya
Warhamhuma kama rabbayani shaghiran
Rabbighfirli waliwalidayya
Warhamhuma kama rabbayani shaghiran
Rabbighfirli waliwalidayya
Warhamhuma kama rabbayani shaghiran
Rabbighfirli waliwalidayya
Warhamhuma kama rabbayani shaghiran
Popular Tags
El Oum Mp3 Download
Download El Oum in Mp3
Nissa Sabyan Mp3 Naats
Download Nissa Sabyan Mp3 Naat "El Oum"