Presenting you the Aye Rasool E Amin MP3 Download in the beautiful voice of Syed Zabeeb Masood. Play online or download Aye Rasool E Amin Naat in MP3 (Audio) for free. On this page you will also get Aye Rasool E Amin Naat Lyrics In Urdu And Hindi.
Syed Zabeeb Masood's Aye Rasool E Amin is one of the best audio Naat, which you can download at 320kbps by clicking the download button.
Aye Rasool E Amin Naat Lyrics
Lyrics will be published Soon!
About Syed Zabeeb Masood
Syed Zabeeb Masood MP3 Naats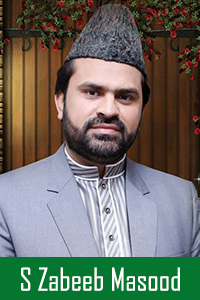 Syed Zabeeb Masood is a beautiful naat khawan known for his unique style and tone. He belongs to a Syed family. His father is Syed Masood Ahmed Shah. Masood Shah Sahib says "his child was involved in Ishq E Nabi SAW since a very tender age".
Listen online or download the huge collection of latest MP3 naats in the superb vocals of Syed Zabeeb Masood
More Naats By Syed Zabeeb Masood