Shah E Madina MP3 Download
Shah E Madina MP3 Naat By Shahida Mini.
Listen online or download Shah e Medina Naat sharif in the beautiful voice of Shahida Mini.
Shahe Madina is a Naat recited by Shahida Mini. Listen this Naat online or download in MP3 format from thenaatsharif.com
Shah E Madina is one of the best MP3 Naat by Shahida Mini.
Shah E Madina Naat MP3 Download
To Download Shah E Medina in 320kbps, please click on the below image.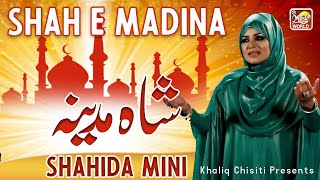 Shah E Madina Lyrics
Shahe Madina Shahe Madina Shahe Madina
Taiba Ke Wali Sare Nabi Tere Dar Ke Sawali
Shahe Madina Shahe Madina
Jalwe He Sare Tere Hi Dam Se, Aabad Aalam Tere Karam Se
Baqi Har Ek She, Naqshe Khayali, Sare Nabi Tere Dar Ke Sawali
Shahe Madina Shahe Madina
Tere Liye Hi Duniya Bani He, Neele Falak Ki Chaadar Tani Hai
Tu Agar Na Hota, Duniya Thi Khali, Sare Nabi Tere Dar Ke Sawali
Shah-e-Madina ShaheMadina Shah-e-Madina
Tune Jahan Ki Mehfil Sajai, Taarikiyon Mein Shamma Jalayi
Kandhe Pe Tere Kamli He Kaali, Sare Nabi Tere Dar Ke Sawali
Shah-e-Madina Shah-e-Madina Shah-e-Madina
Mazhab Hei Tera Sab Ki Bhalayi, Maslak He Tera Mushkil Kushayi
Dekh Ke Apni Ummat Ki Khasta Haali, Sare Nabi Tere Dar Ke Sawali
Shay-e-Madina Shah-e-Madina Shah-e-Madina
Hai Noor Tera Shamso Qamar Mein, Tere Labon Ki Laali Sahar Mein
Phoolon Ne Teri Khushbu Chura Li, Sare Nabi Tere Dar Ke Sawali
Shah-e-Madina Shah-e-Madina Shah-e-Madina
Kaba Ka Kaba Tera Hi Ghar He, Tere Karam Pe Sab Ki Nazar Hai
Dikhlade Hum Ko Darbare Aali, Sare Nabi Tere Dar Ke Sawali
Hain Ap Dukhiyon Ke Aaqa Sahare, Taaje Shafa'at Hai Sar Pe Tumhare
Hum Ko Aata Ho Rawze Ki Jaali, Sare Nabi Tere Dar Ke Sawali
Taiba Ke Wali Sare Nabi Tere Dar Ke Sawali
Shah-e-Madina Shah-e-Madina Shah-e-Madina
Shahe Madina Lyrics In Urdu Written
شاہ مدینہ, شاہ مدینہ
شاہ مدینہ, شاہ مدینہ
دو عالم کے والی سارے نبی تیرے در کے سوالی
شاہ مدینہ, شاہ مدینہ
یارسول اللہ یا حبیب اللہ
یارسول اللہ یا حبیب اللہ
جلوے ہیں سارے تیرے ہی دم سے
آباد عالم تیرے کرم سے
باقی ہر ایک شےنقش خیالی سارے نبی تیرے در کے سوالی
شاہ مدینہ, شاہ مدینہ
یارسول اللہ یا حبیب اللہ
تیرے لئے ہی دنیا بنی ہے
نیلے فلک کی چادر تنی ہے
تواگر نہ ہوتا
دنیا تھی خالی سارے نبی تیرے در کے سوالی
شاہ مدینہ, شاہ مدینہ
یارسول اللہ یا حبیب اللہ
ہے نور تیرا شمس و قمر میں
تیرے لبوں کی لالی سحر میں
پھولوں نے تیری خوشبو چرا لی
سارے نبی تیرے در کے سوالی
شاہ مدینہ, شاہ مدینہ
یارسول اللہ یا حبیب اللہ
تو نے جہاں کی محفل سجائی
تاریکیوں میں شمع جلائی
ہر سمت چھائی
رات کالی سارے نبی تیرے در کے سوالی
شاہ مدینہ, شاہ مدینہ
یارسول اللہ یا حبیب اللہ
مذہب ہے تیرا سب کی بھلائی
مسلک ہے تیرا مشکل کشائی
دیکھ کے اپنی امت کی خستہ حالی
سارے نبی تیرے در کے سوالی
شاہ مدینہ, شاہ مدینہ
یارسول اللہ یا حبیب اللہ
طیبہ کے والی سارے نبی تیرے در کے سوالی
شاہ مدینہ شاہ مدینہ شاہ مدینہ
Popular Tags
Shah E Medina Mp3 Download
Download Shah E Madina in Mp3
Shahida Mini Mp3 Naats
Download Shahida Mini Mp3 Naat "Shah E Madina"