Qalandar MP3 Download
Qalandar MP3 Kalam By Quratulain Baloch
Listen online or download this beautiful Kalam sharif in the beautiful voice of Quratulain Baloch.
Qalandar is a Kalam recited by Quratulain Baloch. Listen this Kalam online or download in MP3 format from thenaatsharif.com
Qalandar is one of the best MP3 Kalam by Quratulain Baloch.
Shahbaz Qalandar Mp3 Download By Quratulain Baloch 2023
Lyrics & Composition: Zain Zohaib
Vocals: Zain Ali, Zohaib Ali, Quratulain Balouch
Music Producer: Harris Irshad
Bass: Waleed Attique
Guitars: Musa Raza
Recorded At: Creatone Studio
Mixed By Harris Irshad
Master by Tom Waltz
Qalandar MP3 Download
To Download Qalandar in MP3 format, please click on the below image.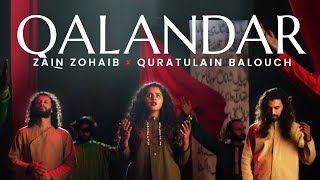 Qalandar Lyrics
Lyrics Not Available
Popular Tags
Qalandar Mp3 Download
Download Qalandar in Mp3
Quratulain Baloch Mp3 Kalams
Download Quratulain Baloch Mp3 Kalam "Qalandar"