Presenting you the Bethy Uthtay Nabi Ki Guftagu Kartay MP3 Download in the beautiful voice of Owais Raza Qadri. Play online or download Bethy Uthtay Nabi Ki Guftagu Kartay Naat in MP3 (Audio) for free. On this page you will also get Bethy Uthtay Nabi Ki Guftagu Kartay Naat Lyrics In Urdu And Hindi.
Owais Raza Qadri's Bethy Uthtay Nabi Ki Guftagu Kartay is one of the best audio Naat, which you can download at 320kbps by clicking the download button.
Bethy Uthtay Nabi Ki Guftagu Kartay Naat Lyrics
Lyrics will be published Soon!
About Owais Raza Qadri
Owais Raza Qadri Mp3 Naats -
Listen online or download a huge Collection Of
Owais Raza Qadri Mp3 Naats
free from our site. We provide you
Owais Raza Qadri All Naat And Albums
which you get for free.
Owais Raza Qadri Naat Mp3 Download
On this page, you will find
Owais Raza Qadri All Naats Audio
.
Owais Raza Qadri ki naat
has a huge fan following in Asia.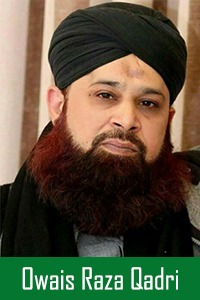 Owais Raza Qadri Naat And Album List
Aa Gaye Mujdah Shafaat Ka Sunanay Walay
Aa Kuch Suna De Ishq Ke Bolon Mein Aey Raza
Aai Aqa Madni Aqa
Aaj Aaye Nabiyon Ke Sardar
Aap Ki Nisba
Aarizey Shams O Qamar
Aasio Ko Dur Tumhara Mil Gay
Aasmaan Gar Terey Talwoonka
Aaya Hai Bulawa Mujhay Darbar-E-Nabi Say
Aaye Aaqa Madni Aaqa
Ab Meri Nighaon Mein
Abtar Thee Fiza
Ahl-E-Sirat-E-Rooh-Ul-Ameen
Aisa Tujhay Khaliq
Aj Sik Mitran Di Wadheri Ae
Ajab Karam Shahe-Wala
Aleef Allah Chumbay Dee Booti
Allah Allah
Allah Allah Shah-E-Konain
Allah Da Naam Layye
Allah Hoo Allah Hoo Allah
Allah Hu Dum Ba Dum Allah Hu
Allah Humma Sallay Ala
Allah Nabi Da Naam
Allah Rabb-E-Mohammad
Allaho Rabbo Mohammadin
Allahu Allahu
Allahu Dam Badam Allahu
An Nabi Sallo Alayeh
Apna Ghum Ya Shah-E-Anmbiya
Arsh-E-Haq Hai Masnad-E-Riffat Rasool
Arzo Sama Banay Hain
As Subhu Bada Min Talatihee
Aye Shafe Umame Shahe
Owais Raza Qadri Biography
Alhaj Muhammad Owais Raza Qadri was born on 8th July, 1970 in Pakistan. He is Intermediate in academic qualifications. He has performed several Hajj and Umrah, the first Umra being in 1992 while the first Hajj in 1996. Apart from Holy Places, Pakistan is Owais Qadri's favourite country.
Children:
Mohammad Anees Raza, Mohammad Afeef Raza
Born:
8th July 1970, Pakistan
Owais raza Qadri Mp3 Naats
Mohammad Owais Raza Qadri needs no introduction as he is known to be the king of today's naat khawani. Owais Raza Qadri is also called as Bulbul e Madina for his passionate and heart-touching voice. He gave Naat-Khawani a whole new dimension and the way he recited many old Naats has increased its popularity of Naats a lot. He was born in the year 1969 at Metha Dar Karachi.. He started recitation of naats in 1977 while he was just an 8-year kid. Owais Raza Qadri possesses a unique style of saying naats. According to him if one truly appreciate and applause the life of Holy prophet Mohammed SAW then he can show it by any mean. Owais's mean of showing gratitude is by reciting naats for love of Mohammad SAW. He also aspires to establish an academy for new naat khawani , so that they can learn how to praise great personalities like Hazrat Mohammad SAW. Owais has performed Hajj and umrah many times. He has also visited a lot many countries to preach about Islam and to recite the naats. Where ever he goes he spread the message of peace, love and harmony. He advises the young generation to follow the teaching of Hazrat Mohammad SAW in their day-to-day life. He has been awarded with the best naat khawan in the year 1997 by the government of Pakistan.
More Naats By Owais Raza Qadri