Presenting you the Madina Ki Wo Andekhi MP3 Download in the beautiful voice of Khalid Hasnain Khalid. Play online or download Madina Ki Wo Andekhi Naat in MP3 (Audio) for free. On this page you will also get Madina Ki Wo Andekhi Naat Lyrics In Urdu And Hindi.
Khalid Hasnain Khalid's Madina Ki Wo Andekhi is one of the best audio Naat, which you can download at 320kbps by clicking the download button.
Madina Ki Wo Andekhi Naat Lyrics
Lyrics will be published Soon!
About Khalid Hasnain Khalid
Khalid Hasnain Khalid MP3 Naats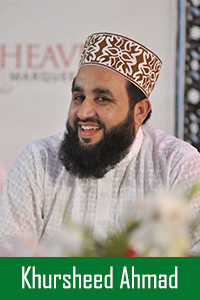 Khalid hasnain Khalid is known to be  the best and emerging naat khawan of the current century. He hails from the famous chakwal city of Punjab. His naat albums have proven a continuous and recurrent success throughout his career. Khalid has a vision of teaching Naat khawani as art so that praise and appreciation of the most beautiful human should be done in the best way. For the sake of his vision, he has started a school for teaching Naat khawani in chakwal city by the name of " Noor e Mujassam". Students from far and near come to his school where they learn the accents, tone, and pronunciation for the naat. His high pitch and versatile voice are loved by Naat lovers. Khalid's vision will surely benefit a number of emerging talents in the art of naat khawani. At naatsharif you can relieve your heart with the most beautiful naat in the voice of Khalid hasnain Khalid in a high-quality mp3 format.
Listen online or download the huge collection of latest MP3 naats in the superb vocals of Khalid Hasnain Khalid
More Naats By Khalid Hasnain Khalid