Presenting you the Watan Ki Yaad MP3 Download in the beautiful voice of Ameer Hasan Aamir. Play online or download Watan Ki Yaad Noha in MP3 (Audio) for free. On this page you will also get Watan Ki Yaad Noha Lyrics In Urdu And Hindi.
Ameer Hasan Aamir's Watan Ki Yaad is one of the best audio Noha, which you can download at 320kbps by clicking the download button.
Watan Ki Yaad Noha Lyrics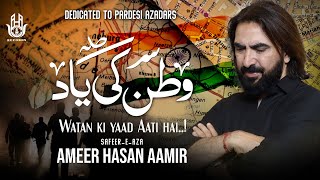 YAAD ATI HAI WATAN KI YAAD ATI HAI
MUHARRAM ME HAME APNE WATAN KI YAAD ATI HAI.
KAREN KIS SE GILA PARDES ME AYE FATEMA ZAHRA
1- AY BIBI MAJLISO MATAM KA MAUSAM ANE WALA HAI
TADAPTE HAIN KI AB MAHE MUHARRAM ANE WALA HAI
GHUTAN HOTI HAI IS PARDES ME AB DIL NAHI LAGTA.- muharram........
2- SADA JAB MAJLISO MATAM KI IN KANON ME ATI HAI
WATAN KI YAAD HMKO KHUN KE ANSU RULATI HAI
TADAP JATA HAI DIL TANHAION ME HAM GARIBON KA- muharram......
3-MANAYN KIS TARAH YE GAM BAHUT MAJBUR HAIN BIBI
FATA JATA HAI DIL APNE WATAN SE DUR HAIN BIBI
LABON PAR DAM BADAM AATA HAI SHAHZADI YEHI FIQRA - muharram............
4-KAREN BHI KIS TARAH KHUL KAR SHAHE WALA KA HM MATAM
MANAYN KIS TARAH PARDES ME UN BEKASON KA GAM
WO GHAR ZINDAAN LAGTA HAI JAHAN MATAM NAHI HOTA -muharram..........
5-TAMANNA THI KI GHAR JAKAR AZAKHANA SAJAYNGE
ALAM ABBAS KA KHUD AONE HATON SE UTHAYNGE
CHADHAYNGE JARI KI MASHK PAR FULON KA EK SEHRA -muharram...........
6- ZIARAT KE LIY ASHUR KI SHAB HAM NIKALTE THE
TO APNE GAON KE HAR TAZIYA KHANE ME JATE THE
KUCH IS ANDAAZ SE DETE THE HM MAZLUM KO PURSA-muharram.............
7-PILATE THE JO HM NAME SAKINA PAR WAHAN PANI
KUCH IS ANDAAZ SE KARTE THE PIYASON KI NIGAHBANI
WATAN ME EHTEMAM IS TARAH KARTE THE SABILON KA -muharram.......................
8-KALEJA HOGA USKI YAAD ME EK BAR FIR ZAKHMI
UTHEGI JIS GHADI FARWA TUMHARE LAAL KI MEHNDI
KARENGE ZABT KAISE SAATWIN KO HM MERE AAQA- muharram..........
9-MERE MAULA YE SB MAJBURIYAN JEENE NAHI DETIN
PARAY DES ME YE DURIYAN JEENE NAHI DETIN
BULA LIJE HAME APNE WATAN AB JALD AY MAULA - muharram ...................
10-DUAYN MANGTE HAIN ROZ HAM APNE MUSALLE PAR
KI HM PARDES SE KAB LAOT KE JAYNGE APNE GHAR
NA JANE KAB SAJAYNGE ALI ASGAR KA GAHWARA - muharram.............
11-BHARA GHAR LUT GAYA ZAHRA KA EK PARDES ME AAKAR
KAHIN ASGAR KI MAIYAT HAI KAHIN HAI LASHAY AKBAR
BIKHAR KE RAH GAYA DASHTE BALA ME SHAH KA KUNBA -muharram..............
12-NA ROYA HAI (SHABAB )ITNA KABHI PARDES ME KOI
WATAN KI YAAD ME ( AAMIR ) SAKINA JIS QADAR ROI
WO BACCHI AAJ BHI ZINDAAN ME PADHTI HAI YEHI NAUHA - muharram.........