Miftahul Jannah MP3 Download
Miftahul Jannah MP3 Naat By Ai Khodijah
Listen online or download this beautiful Naat sharif in the beautiful voice of Ai Khodijah.
Miftahul Jannah is a Naat recited by Ai Khodijah. Listen this Naat online or download in MP3 format from thenaatsharif.com
Miftahul Jannah is one of the best MP3 Naat by Ai Khodijah.
Miftahul Jannah Mp3 Download By Ai Khodijah 2023
Music Credit
Judul Lagu : Miftahul Jannah
Cipt: Rizal Latief
Vocal: Ai Khadijah
Arranger : M.Ridwan & Abie Radhea
Music Producer: Muhammad Ridwan
Mixing & mastering by Abie Radhe
Produksi : RL ENTERTAINMENT & RL STUDIO
Miftahul Jannah MP3 Download
To Download Miftahul Jannah in MP3 format, please click on the below image.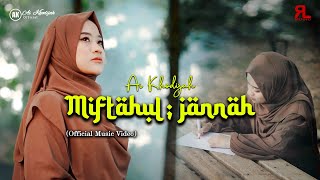 Miftahul Jannah Lyrics
سُبْحَانَ اللَّهِ وَبِحَمْدِهِ سُبْحَانَ اللَّهِ العَظِيْمِ
لَا حَوْلَ وَلَا قُوَّةَ إِلَّا بِاللهِ العَلِيِّ العَظِيْمِ
Reff
مِفْتَاح الْجَنَّةلَا اِلَهَ اِلَّا اللهْ
Kuncinya Syurga La Ilahaillallah
أسْتَغْفِرُ الله، رَبَّ الْبَرَايَا
أسْتَغْفِرُ الله، مِنَ الْخَطَايَا
Song
Ya Allah Tuhanku Kami Meminta
Jauhkanlah Dari Siksa Neraka
Ampuni Hamba Maafkan Hamba
Dari Segala Kesalahan Hamba
*Back To Reff
Popular Tags
Miftahul Jannah Mp3 Download
Download Miftahul Jannah in Mp3
Ai Khodijah Mp3 Naats
Download Ai Khodijah Mp3 Naat "Miftahul Jannah"