Presenting you the Meraj Ki Shab Hai MP3 Download in the beautiful voice of Zulfiqar Ali. Play online or download Meraj Ki Shab Hai Naat in MP3 (Audio) for free. On this page you will also get Meraj Ki Shab Hai Naat Lyrics In Urdu And Hindi.
Zulfiqar Ali's Meraj Ki Shab Hai is one of the best audio Naat, which you can download at 320kbps by clicking the download button.
Meraj Ki Shab Hai Naat Lyrics
Lyrics will be published Soon!
About Zulfiqar Ali
Zulfiqar Ali MP3 Naats [caption id="" align="alignleft" width="121"]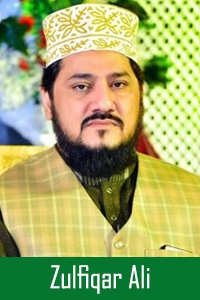 Zulfiqar Ali MP3 Naats[/caption]
Zulfiqar Ali Hussaini was a real blessing from Allah tahala. His super spiritual voice and his adorable way of saying the praises of Allah and Hazrat Mohammad SAW have made it possible for him to earn a life long blessings. He appeared in Waseem badami's ramzan transmission for number of times. His naats and hamd have been popular over the internet and got million views.
Listen online or download the huge collection of latest MP3 naats in the superb vocals of Zulfiqar Ali.
More Naats By Zulfiqar Ali