Presenting you the Jab Aankh Ata Krty Hain MP3 Download in the beautiful voice of Yousuf Memon. Play online or download Jab Aankh Ata Krty Hain Naat in MP3 (Audio) for free. On this page you will also get Jab Aankh Ata Krty Hain Naat Lyrics In Urdu And Hindi.
Yousuf Memon's Jab Aankh Ata Krty Hain is one of the best audio Naat, which you can download at 320kbps by clicking the download button.
Jab Aankh Ata Krty Hain Naat Lyrics
Lyrics will be published Soon!
About Yousuf Memon
Yousuf Memon MP3 Naats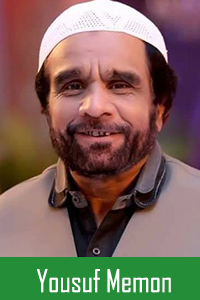 Yousuf Memon was born in Karachi in a "hassan" tribe in the late sixties. He started his naat khawani in a very early age as his late father was also a naat and hamd khawan. Memon learned the beautiful art of saying deep naats from his father. Yousaf had a deep and true love for the Prophet Mohammad SAW. He had visited Madina tayyaba so many times. Memon had also visited abroad for praising the Prophet and Allah SWT. The countries he visited in his life time includes America, England, Holland, Australia, UK, UAE, Saudi Arabia, Norway, Belgium, Kenya, and many other Islamic states. He has received tremendous love, affection devotion from all around the world. He has a unique style of saying naats. Yousuf Memon had a very calm personality. A smile always retained at his face, which made him a classic and lovable personality. He had been awarded the title of "bulbule madina". He has performed in so many programs on national and private television channels. This beautiful naat khawan died on 27 October 2019. Yousuf Memon is not among us now but a valuable asset of his naats and hamds will always remain among us. May Allah SWT rest his soul in peace. Ameen.
Listen online or download the huge collection of latest MP3 naats in the superb vocals of Yousuf Memon
More Naats By Yousuf Memon