Presenting you the Ajab Hai Kaif MP3 Download in the beautiful voice of Waheed Zafar Qasmi. Play online or download Ajab Hai Kaif Naat in MP3 (Audio) for free. On this page you will also get Ajab Hai Kaif Naat Lyrics In Urdu And Hindi.
Waheed Zafar Qasmi's Ajab Hai Kaif is one of the best audio Naat, which you can download at 320kbps by clicking the download button.
Ajab Hai Kaif Naat Lyrics
Lyrics will be published Soon!
About Waheed Zafar Qasmi
Waheed Zafar Qasmi MP3 Naats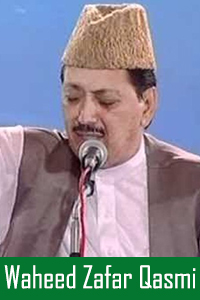 Qari Waheed Zafar Qasmi is a renowned senior classical Naat Khawan. He is blessed with a sweet and heart-touching voice. He has participated in many international Qiraat competitions and have won many too.
Listen online or download the huge collection of latest MP3 naats in the superb vocals of Waheed Zafar Qasmi
More Naats By Waheed Zafar Qasmi