Akeli Zehra MP3 Download
Akeli Zehra MP3 Noha By Shahid Baltistani
Listen online or download this beautiful Noha sharif in the beautiful voice of Shahid Baltistani.
Akeli Zehra is a Noha recited by Shahid Baltistani. Listen this Noha online or download in MP3 format from thenaatsharif.com
Akeli Zehra is one of the best MP3 Noha by Shahid Baltistani.
Akeli Zehra Noha Mp3 Download By Shahid Baltistani | Noha Bibi Fatima Zahra |
◼️ Recited & Composed by: Shahid Hussain Baltistani
◼️ Written by: Janab Mohsin Jaffri
◼️ Translation: Janab Mohsin Rizvi (USA)
◼️ Chorus Team: Brother Rizwan Mirza, Shahrukh & Sunny
◼️ Audio Recorded: KSP- Vicky
◼️ Audio Mix: Mesum Zaidi – Lawa Studio
◼️ Video: Ali Arman Baltistani – TNA Production
◼️ Production Team: Baqar Baltistani, Jaffar Darvaish
◼️ Cover Design | Shuja GFX 2022
◼️ Special Thanks | Babul Hawaij Tabarukat Center karachi
Akeli Zehra MP3 Download
To Download Akeli Zehra in MP3 format, please click on the below image.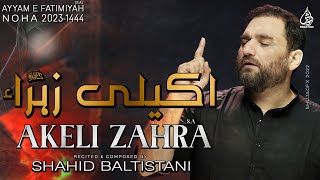 Akeli Zehra Lyrics
Lyrics Not Available
Popular Tags
Akeli Zehra Mp3 Download
Download Akeli Zehra in Mp3
Shahid Baltistani Mp3 Nohas
Download Shahid Baltistani Mp3 Noha "Akeli Zehra"