Ali Nu Manda Ja MP3 Download
Ali Nu Manda Ja MP3 Manqabat By Mir Hasan Mir
Listen online or download this beautiful Manqabat sharif in the beautiful voice of Mir Hasan Mir.
Ali Nu Manda Ja is a Manqabat recited by Mir Hasan Mir. Listen this Manqabat online or download in MP3 format from thenaatsharif.com
Ali Nu Manda Ja is one of the best MP3 Manqabat by Mir Hasan Mir.
Ali (as) Nu Manda Ja Manqabat MP3 Download By Mir Hasan Mir 2023
Manqabat Title | ☆ Ali (as) Nu Manda Ja ☆
Recited By | Mir Hasan Mir
Urdu Poet | Janab Mir Takallum
Punjabi Poet | Janab Hasnain Akbar
Composition | Janab Raza Shah
Special Thanks | Khurram Murtaza, Ustad Akbar Abbas, Brother Hamza
Audio | Shabih Raza 92 Studio
Mix and Master | ODS Karachi
Audio Arrangement | Faisal Abbas, Ashraf Ali
Supporting Chorus | Rizwan Mirza, Sunny
Video | TNA Ali Arman
Creatives | SAR Creatives – Alamdar Rizvi
Translation | Ahmad Virani – USA
Ali Nu Manda Ja MP3 Download
To Download Ali Nu Manda Ja in MP3 format, please click on the below image.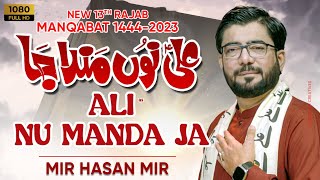 Ali Nu Manda Ja Lyrics
Lyrics Not Available
Popular Tags
Ali Nu Manda Ja Mp3 Download
Download Ali Nu Manda Ja in Mp3
Mir Hasan Mir Mp3 Manqabats
Download Mir Hasan Mir Mp3 Manqabat "Ali Nu Manda Ja"