Presenting you the Bigri Hui Banti Hai Naat in MP3 (Audio) for free. On this page you will also get Bigri Hui Banti Hai Naat Mp3 Download Naat Lyrics In Urdu And Hindi.
Khursheed Ahmad's Bigri Hui Banti Hai Naat Mp3 Download is one of the best audio Naat, which you can download at 320kbps by clicking the download button.
Bigri Hui Banti Hai Naat Mp3 Download Naat Lyrics
Lyrics will be published Soon!
About Khursheed Ahmad
Khursheed Ahmad MP3 Naats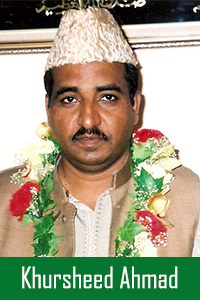 Khursheed Ahmad was a renowned naat khawan of Pakistan. He was born in Rahim yar khan. His parents previously migrated from Jaipur, Indian Rajhistan. His early education is from his home town. Later he received a diploma in commerce from Lahore Commerce College. He was initially working as a typist in a radio station. Once he appeared in a naat competition in DOW medical college from where his tale of success began. He won that competition with the GOD gifted talent in his melodious voice which attracted and fascinated people from around the world. He also received the First position in a naat competition arranged by the Pakistan Television network. All of the naats by Khursheed Ahmad are adorable to listen and they give such a soothing and meditating effect to their listener. But few have been among the most listened like his naat, "Zameen o zaman tumharay liyay, makeen o makaan tumhary liyay". After this his other naat "Yeh sab tumhara karam hai aaqa k baa tab tak bani hui ha" also received numerous likes from inside and outside of the country. All along with his career, he has been visiting different countries for reciting naats. He received numerous awards and honors for his naat reciting skills inclusive of "Nigar Award" and "Pride of performance" award by the state. He was a legend for the whole nation. He is no more among us as he passed away a few years ago because of high blood pressure and brain hemorrhage. His naats and sweet voice will be evergreen in the history of Pakistani naat khawan.
Listen online or download the huge collection of latest MP3 naats in the superb vocals of Khursheed Ahmad
More Naats By Khursheed Ahmad