Presenting you the Munawar Meri Ankhon Ko MP3 Download in the beautiful voice of Javeria Saleem. Play online or download Munawar Meri Ankhon Ko Naat in MP3 (Audio) for free. On this page you will also get Munawar Meri Ankhon Ko Naat Lyrics In Urdu And Hindi.
Javeria Saleem's Munawar Meri Ankhon Ko is one of the best audio Naat, which you can download at 320kbps by clicking the download button.
Munawar Meri Ankhon Ko Naat Lyrics
Lyrics will be published Soon!
About Javeria Saleem
Javeria Saleem MP3 Naats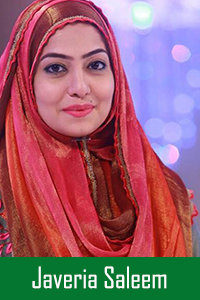 Javeria Saleem is a notable female naat khawan. She has earned a lot of respect for her naats and kalams. She was born in Karachi. She belongs to the Memon family of Sindh province of Pakistan. Her naat albums have been listened to by people of all ages. She has a very soft euphonious and mellifluous voice. Javeria Saleem has received a number of prestigious awards for naat khawani. She has appeared on the national Television of the country PTV. She also received victory in all Pakistan ARY Natiya Competition held in 2004. She was also a winner of the Annual Naat Khawani Competition 2005-2006.  She has been a dominant winner of the Education Festival Malir Town 2006 naat competition.
Listen online or download the huge collection of latest MP3 naats in the superb vocals of Javeria Saleem
More Naats By Javeria Saleem