Presenting you the Apni Makhlooq Pe Reham Kar MP3 Download in the beautiful voice of Hooria Rafiq. Play online or download Apni Makhlooq Pe Reham Kar Naat in MP3 (Audio) for free. On this page you will also get Apni Makhlooq Pe Reham Kar Naat Lyrics In Urdu And Hindi.
Hooria Rafiq's Apni Makhlooq Pe Reham Kar is one of the best audio Naat, which you can download at 320kbps by clicking the download button.
Apni Makhlooq Pe Reham Kar Naat Lyrics
Lyrics will be published Soon!
About Hooria Rafiq
Hooria Rafiq MP3 Naats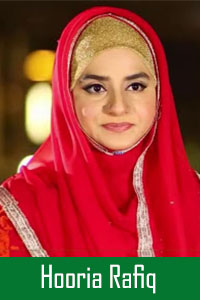 Hooria Rafiq is the second most popular female Naat Khawan after Umme Habiba. She has become a role model for a new generation. Her heart-touching voice has been admired by everyone. She belongs to Karachi Pakistan and has been reciting Naats since she was a kid. Hooria has a true talent of naat khawani. She has a greater aptitude and skills of reciting naats in some most harmonious, dulcet sounds. His soundtracks including "Ya Mohammad noore mujassam " and "YA shafi E Ummam lillah kar do Karam" are the most listened-to naats. She has the guest appearance for naat khawani in a number of television programs. She has also traveled outside of the country for reciting naats. Hooria Rafiq has been very popular among female naat khawans. NaatSharif has all the latest MP3 Naats of Hooria Rafique with updated lyrics.
Listen online or download the huge collection of latest MP3 naats in the superb vocals of Hooria Rafiq
More Naats By Hooria Rafiq