Presenting you the Gumbad E Khazra Ke Daaman MP3 Download in the beautiful voice of Fasihuddin Soharwardi. Play online or download Gumbad E Khazra Ke Daaman Naat in MP3 (Audio) for free. On this page you will also get Gumbad E Khazra Ke Daaman Naat Lyrics In Urdu And Hindi.
Fasihuddin Soharwardi's Gumbad E Khazra Ke Daaman is one of the best audio Naat, which you can download at 320kbps by clicking the download button.
Gumbad E Khazra Ke Daaman Naat Lyrics
Lyrics will be published Soon!
About Fasihuddin Soharwardi
Fasihuddin Soharwardi Naats Mp3 Download
- Presenting you the
Fasihuddin Soharwardi Naats
which you can listen to online or download in mp3 (audio).
Thenaatsharif.com
provides you with Syed Salahuddin soharwardi all naats which are available to download in 320kbps
Syed Salahuddin soharwardi Naats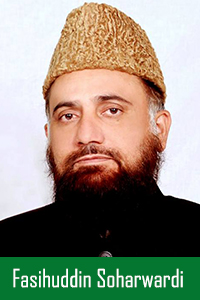 Fasihuddin soharwardi is one of the leading talents of the country in the field of nasheeds and naats. He is the most respected and humble Naat He belongs to a Syed Family. He started his nasheeds while he was just a five-year-old kid. He was born in Karachi his father Syed Riazuddin Soharwardy is also a famous nasheed khawan. Fasihuddin soharwardi has learned a lot from his father which is the reason he started at a very early age. He received his early education in Karachi, in professional education he obtained a master's degree in Islamic studies, a law degree from Urdu University Karachi, and a master of journalism degree. He is a lawyer by profession but he hardly finds time to practice law because he often travels to different parts of the world on special invitations to recite Naats. He is known for recording more than 5000 Naats in multiple languages. His work is in Urdu language but he also recites in Pashto, Punjabi, Saraiki, Farsi, and Persian. He has traveled to Europe and America to perform his naats in different shows a number of times. He is a senior Naat khawan and has been invited on TV shows on multiple occasions. This shows he is loved far and wide. His naat "Khuda ka zikar kary, Zikare Mustafa na kary" and "Main to panj tan ka ghulam hun" are evergreen naats, as these listened in every time and decade. Fasihuddin has a great contribution to naats and nasheeds that will be loved, listened and appreciated for years long.
Fasihuddin Soharwardi Naats List
here is the list of
Fasihuddin Soharwardi Tops Naats
which you can listen to here at any time.
Saday Wal Sohneya
Ek Roz Momino Tumhe Marna Zarur Hai
Main To Panjtan Ka Ghulam Hoon
Zamin O Zaman Tumhare Liye
Zikar Nabi Da Kar Deya Rehna
Saye Mein Tumhare Hain
Sehre Gulshan Kon Dekhe
Shehan Shaha Habiba Madine Diya
Soye Taiba Janay Walo
Tere Ishq Di Daulat Mill Jaye
Tere Ishq Di Daulat
Rehmat Baras Rahi Hai
More Naats By Fasihuddin Soharwardi