Presenting you the Ilahi Teri Chokhat Per MP3 Download in the beautiful voice of Aqib Farid. Play online or download Ilahi Teri Chokhat Per Naat in MP3 (Audio) for free. On this page you will also get Ilahi Teri Chokhat Per Naat Lyrics In Urdu And Hindi.
Aqib Farid's Ilahi Teri Chokhat Per is one of the best audio Naat, which you can download at 320kbps by clicking the download button.
Ilahi Teri Chokhat Per Naat Lyrics
Lyrics will be published Soon!
About Aqib Farid
Aqib Farid MP3 Naats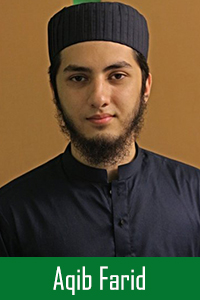 Aqib Farid is a young, influential naat khawan. He belongs to the capital of Pakistan Islamabad. According to him, he has always been attached to the naat khawani. Since he was a child he used to say naats and hamd. Later on, he adopted naat khawani as a regular routine. His voice has a complete energetic effect. He has been more popular since a few years back. He also started making vlogs for his unusual trips which he occasionally makes throughout his routine. Aqib Farid naats have got millions of listeners all around the world. We hope you will surely enjoy all the naats enlisted here in our naatshareef.com platform. Do listen to all of these naats and appreciate the naat khawan for his amazing voice.
Listen online or download the huge collection of latest MP3 naats in the superb vocals of Aqib Farid