Presenting you the Meray Aaqa Madinay Main MP3 Download in the beautiful voice of Ahmed Raza Qadri. Play online or download Meray Aaqa Madinay Main Naat in MP3 (Audio) for free. On this page you will also get Meray Aaqa Madinay Main Naat Lyrics In Urdu And Hindi.
Ahmed Raza Qadri's Meray Aaqa Madinay Main is one of the best audio Naat, which you can download at 320kbps by clicking the download button.
Meray Aaqa Madinay Main Naat Lyrics
Lyrics will be published Soon!
About Ahmed Raza Qadri
Ahmed Raza Qadri Naats Mp3 Download
Are you looking for
Ahmed Raza Qadri Naats Mp3 Download
? Presenting you the Ahmed Raza Qadri all naats which you can listen to online or download at 320kbps for free. [caption id="" align="aligncenter" width="190"]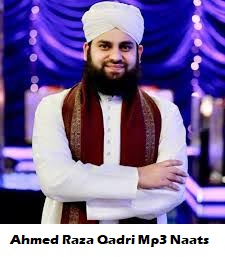 Ahmed Raza Qadri Mp3 Naats[/caption]
About Ahmed Raza Qadri Naats List
Here is the list of the Ahmed Raza Qadri Naats which you can download for free from this page.
Aa Gaye Sarkar
Aamna Ka Laal Aaya
Aap Ki Naatain
Allah Allah Nabi Ka Gharana
Chamak Tujhse Paate Hain Sab Pane Wale
Gunahon Ki Aadat Chura Mere Maula
Habib-e-Khuda Ka Nazara Karoon Main
Jashan-e-Amad-e-Rasool
Madine Ki Hasrat Ke Qurban Main
Main Lajpalan De Lar Lagiyan
Mere Aaqa Aao Ke Muddat Hui Hai
Muhammad Ka Roza
Mustafa Jaane Rehmat Pe Lakhon Salam
Sarkar Ki Aamad Marhaba
Sarkar Madina Se Nisbat Ho To Aisi Ho
Tajdar-e-Haram
Teri Rehmato Ka Dariya Sare Aam Chal Raha Hai
Ya Elahi Har Jagah Teri Ata Ka Saath Ho
Ya Nabi Salam Alaika
Zameen-o-Zaman Tumhare Liye
Aye Sabz Gumbad Wale
Dil Mein Ishq-e-Nabi Ki Ho Aisi Lagan
Gul Uz Rukh Tere
Har Waqt Tasawwur Mein Madine Ki Gali Ho
Ho Karam Sarkar Ab To Ho Gaye Gham Beshumar
Madine Ka Safar Hai Aur Main
Mujhko Taiba Mein Bulalo
Rab Farmaya Mehbooba
Sarkar Tawaju Farmain
Teri Shaan Jalla Jalaluhu
Ya Rasool Allah Tere Chahne Walon Ki Khair
Allah Hoo Allah Hoo
Choti Si Zindagi Hai
Dar-e-Nabi Par Ye Umar Beetay
Hum Faqiron Ko Madine Ki Gali Achi Lagi
Main Madine Chala
Mere Nabi Ka Naam
Sarkar Ka Nokar Hun
Shahe Madina Naat
Ya Mustafa Ata Ho Phir Izn Hazri Ka
About Ahmed Raza Qadri
Hafiz Ahmed Raza Qadri is a World Renowned Naat Reciter, Writer, Composer, and an accomplished Nasheed Artist from Lahore, Pakistan, He is loved across the world for his melodious voice and his unique style of reciting Naat Sharif to express the love of our Holy Prophet Muhammad (PBUH) He is privileged with an Islamic background and having studied Nasheeds "Hamd o Naat" From several renowned Naat Legends, including those from one of the World's Most Famous Naat reciter and Ahmed Raza's Grand Father Sheikh Siddique Chishti (R.A) Many competitions were arranged during his student life, he won 1st position in All of them Alhamdulillah... He has also participated in National Competitions in Pakistan from His School & College and His Islamic Institutions Where he was Awarded the Title of "MOST DIVINE NAATKHAWAN OF THE WORLD" He is associated with the Team of Famous Religious Scholar "Dr. Aamir Liaquat Hussain" & Geo Tv Networks.. Hafiz Ahmed Raza Qadri has Launched 8 Naat Albums Internationally, which are all published on Youtube, Dailymotion & Facebook, etc Hafiz Ahmed Raza Qadri's Tours Around the World: Hafiz Ahmed Raza Qadri has toured across the World to different countries for reciting Naats & Nasheeds.
Awards & Achievements 
1) He is awarded by British Muslim Association in London 2) "Most Divine Naatkhawan" in Australia 3) Awarded from "PAK Welfare Association" in Kuwait 4) Inauguration By Me Of Emirates City Towers & Ajman Up town in UAE His Purpose in Life is to spread the message of love with Our Beloved Prophet Muhammad (PBUH) to every single person in this world and to attract Our young generation towards Islam and especially towards Naat e Pak.. His Heartiest Wish is to die in Madina Munawwara in front of Roza e Rasool (PBUH) while reciting Naat e Pak and get the final place in Jannat-ul-Baqee INSHALLAH.
Ahmed Raza Qadri Mp3 Naats
Hafiz Ahmed Raza Qadri needs no introduction. He started Naat Khawani in 2009 when he appeared on a TV channel in Ramzan in a sehri show but instantly got hit. Hafiz Ahmed Raza Qadri is a young melodious sound that has added great content to the history of naats, nasheeds, and hamds. He belongs to a famous religious family in the heart of Lahore. His grandfather Sheikh Siddique Chishti (R.A) is among the world's renowned naat khawan of his time and is still remembered and listened to by his lovers. Hafiz Ahmed Raza Qadri received his education from Lahore in the field of commerce. He has been attached to naat khawani for a decade. His albums have been recorded by Geo TV and QTV subsequently. He has appeared in a number of television shows to recite naats and to evaluate emerging naat khawans. He use to travel all around the world to recite naats and to spread the love of Prophet Mohammad SAW in his beautiful voice. He has been awarded a number of prestigious awards in his field. But to be humble and down to earth he says "It's enough for him that Allah Almighty has chosen him for praising his loved Prophet". Naat sharif offers his latest and top Naats for you for free. On this page, you will find a huge collection of Ahmed Raza Qadri Mp3 Naats.
More Naats By Ahmed Raza Qadri