Presenting you the Kuch Nahi Mangta MP3 Download in the beautiful voice of Abrar ul Haq. Play online or download Kuch Nahi Mangta Naat in MP3 (Audio) for free. On this page you will also get Kuch Nahi Mangta Naat Lyrics In Urdu And Hindi.
Abrar ul Haq's Kuch Nahi Mangta is one of the best audio Naat, which you can download at 320kbps by clicking the download button.
Kuch Nahi Mangta Naat Lyrics
Lyrics will be published Soon!
About Abrar ul Haq
Abrar ul Haq Mp3 Naats Listen online or download this beautiful collection of naat sharif's by Abrar ul Haq
About Abrar ul Haq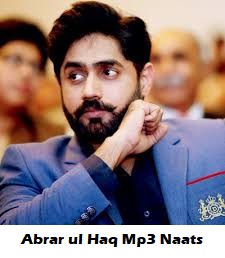 Abrar-ul-Haq is a Pakistani politician, philanthropist and singer-songwriter. His debut 1995 album Billo De Ghar sold over 40.3 million albums worldwide, which made him a household name and granted him the title of "King of Pakistani Pop". He has recorded some beautiful Mp3 Naats in the love of Holy Prophet Hazrat Muhammad (SAW).
Born:
July 21, 1968 (age 51 years), Narowal
Spouse:
Hareem Abrar (m. 2005)
Children:
Muhammad Taha
Education:
F. G. Sir Syed College, Quaid-i-Azam University
Abrar ul Haq Mp3 Naats
You will find a huge collection of soulful and heart-touching Mp3 Naats on this site. Keep Listening and sharing.
More Naats By Abrar ul Haq