Kun Anta MP3 Download
Kun Anta MP3 Naat By Humood
Listen online or download this beautiful Naat sharif in the beautiful voice of Humood.
Kun Anta is a Naat recited by Humood. Listen this Naat online or download in MP3 format from thenaatsharif.com
Kun Anta is one of the best MP3 Naat by Humood.
Kun Anta Slowed + Reverb Mp3 Download By Humood | Kun Anta Lofi Mp3 | Kun Anta Tiktok Viral
Kun Anta MP3 Download
To Download Kun Anta in MP3 format, please click on the below image.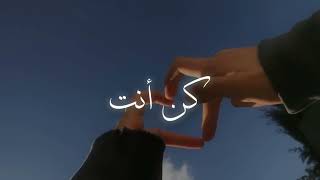 Kun Anta Lyrics
كلمات "كن أنت" :
لأجاريهم، قلدت ظاهر ما فيهم
فبدوتُ شخصاً آخر، كي أتفاخر
و ظننتُ أنا، أنّي بذلك حُزْت غنى
فوجدتُ أنّي خاسر، فتلك مظاهر
لا لا، لا نحتاج المال، كي نزداد جمالا، جوهرنا هنا، في القلب تلالا
لا لا، نرضي الناس بما لا، نرضاه لنا حالا، ذاك جمالنا، يسمو يتعالى
Oh Wo Oh, Oh Wo Oooh, Oh Wo Oh, Oh Wo Oooh, Oh Wo Oh, Oh Wo Oooh
كن أنت تزدد جمالاً
أتقبّلهم، الناس لست أقلّدهم
إلا بما يرضيني، كي أرضيني
سأكون أنا، مثلي تماما هذا أنا
فقناعتي تكفيني، ذاك يقيني
لا لا، لا نحتاج المال، كي نزداد جمالا، جوهرنا هنا، في القلب تلالا
لا لا ، نرضي الناس بما لا، نرضاه لنا حالا، ذاك جمالنا، يسمو يتعالى
كن أنت تزدد جمالاً
سأكون أنا، من أرضى أنا، لن أسعى لا لرضاهم
وأكون أنا، ما أهوى أنا، مالي وما لرضاهم
سأكون أنا، من أرضى أنا، لن أسعى لا لرضاهم
وأكون أنا، ما أهوى أنا، لن أرضى أنا برضاهم
لا لا، لا نحتاج المال، كي نزداد جمالا، جوهرنا هنا، في القلب تلالا
لا لا، نرضي الناس بما لا، نرضاه لنا حالا، ذاك جمالنا، يسمو يتعالى
كن أنت تزدد جمالاً
كلمات: سيف فاضل
ألحان: حمود الخضر
توزيع ومكس: حمزة نمرة
Popular Tags
Kun Anta Mp3 Download
Download Kun Anta in Mp3
Humood Mp3 Naats
Download Humood Mp3 Naat "Kun Anta"