Bazm E Haider MP3 Download
Bazm E Haider MP3 Manqabat By Farhan Ali Waris
Listen online or download this beautiful Manqabat sharif in the beautiful voice of Farhan Ali Waris.
Bazm E Haider is a Manqabat recited by Farhan Ali Waris. Listen this Manqabat online or download in MP3 format from thenaatsharif.com
Bazm E Haider is one of the best MP3 Manqabat by Farhan Ali Waris.
Bazm E Haider MP3 Download
To Download Bazm E Haider in MP3 format, please click on the below image.

Bazm E Haider Lyrics
علیؑ علیؑ علیؑ علیؑ علیؑ
علیؑ علیؑ علیؑ علیؑ علیؑ
علیؑ علیؑ علیؑ علیؑ علیؑ
علیؑ علیؑ علیؑ علیؑ علیؑ
گر ہے جنت میں جانے کی خواہش بزم حیدرؑ میں آنا پڑے گا
گنگنا کے غدیری ترانہ پورا کلمہ سنانا پڑے گا
ہمسری کر رہا ہے علیؑ سے، ٹھیک ہے ہم بھی مانیں گے لیکن
شیخ تجھ کو بھی دو انگلیوں سے بابِ خیبر اٹھانا پڑے گا
گر ہے جنت میں جانے کی خواہش بزم حیدرؑ میں آنا پڑے گا
کہہ کے مرحب سے یہ تیغ حیدرؑ لے کے انگڑائی گردن پہ بیٹھی
تو بہت اڑ رہا ہے ہوا میں، تیرے سر کو اڑانا پڑے گا
گر ہے جنت میں جانے کی خواہش بزم حیدرؑ میں آنا پڑے گا
موت جینے کی دے گی دعائیں زندگی ناز اٹھائے گی لیکن
بغض حیدرؑ کے موذی مرض سے اپنے دل کو بچانا پڑے گا
گر ہے جنت میں جانے کی خواہش بزم حیدرؑ میں آنا پڑے گا
یاد رکھ مرتضیؑ کے مخالف تو تو کیا تیرے باپ کو بھی
جائے پیدائش مرتضیؑ پہ اپنے سر کو جھکانا پڑے گا
گر ہے جنت میں جانے کی خواہش بزم حیدرؑ میں آنا پڑے گا
یا حسینؑ اپنے سینے پہ لکھو، یا علیؑ لکھ لو اپنے لبوں پر
پھر فشار لحد بھی نہ ہو گا اور نہ شجرہ بتانا پڑے گا
گر ہے جنت میں جانے کی خواہش بزم حیدرؑ میں آنا پڑے گا
گھر کو جنت نما ہے بنانا انبیاءؑ کو اگر ہے بلانا
اے مسلماں تجھے اپنے گھر میں جشن حیدرؑ منانا پڑے گا
گر ہے جنت میں جانے کی خواہش بزم حیدرؑ میں آنا پڑے گا
باغ جنت میں جانا تو کوئی، مسئلہ ہی نہیں میرے بھائی
ہاں مگر در پہ رضواں کو پہلے، نقش ماتم دکھنا پڑے گا
گر ہے جنت میں جانے کی خواہش بزم حیدرؑ میں آنا پڑے گا
نُورِ عشقِ علیؑ دِل میں بھر کے خاکِ کرب و بلا سے سنور کے
باغِ جنّت میں فرحان و گوہر کربلا ہوکے جانا پڑے گا
گر ہے جنت میں جانے کی خواہش بزم حیدرؑ میں آنا پڑے گا
علیؑ علیؑ علیؑ علیؑ علیؑ
علیؑ علیؑ علیؑ علیؑ علیؑ
علیؑ علیؑ علیؑ علیؑ علیؑ
علیؑ علیؑ علیؑ علیؑ علیؑ
Popular Tags
Download Bazm E Haider in Mp3
Farhan Ali Waris Mp3 Manqabats
Download Farhan Ali Waris Mp3 Manqabat "Bazm E Haider"
About Farhan Ali Waris
Farhan Ali Waris MP3 Nohay [caption id="" align="alignleft" width="224"]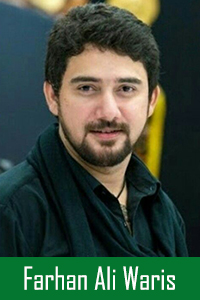 Farhan Ali Waris Nohay MP3 Download[/caption]
Farhan Ali waris is another emerging talent in the field of noha khawani and naat khawani. He belongs to the most populated city of the country that is Karachi. He Belongs to a  Syed Family. His Father is Syed Mazhar Iqbal Rizwi. His real name is Syed Shujahat rizvi. Farhan started his naat khawani career in 1998. Farhan Ali Waris gained rule over people's hearts through the magical words of noha and Nohay . His specialty is in Noha recitation. People used to listen to him for the love of Hussain and Panj tan. His love for Prophet SAW and the martyrs of Karbala is reflected in his voice. He recites in Urdu, Punjabi and Pashto and a few in English. He is very active over his youtube channel named Farha Ali Waris. He uploads the latest nohas and Nohay regularly over there. His all Nohay have millions of views. His Noha "Ali Ali Moula" and "Har zamana mery Hussain ka ha" have been heard a million times over his youtube channel. He is one of a close friend of Amjad Sabri who was shot dead in Karachi in 2016. Farhan is very compassionate about his work. He is a dedicated guy who pours the purest of his work into every project. He has more than 400 Nohay and nohas to date. His hard work have to lead him to receive a number of national and international awards.
Listen online or download the huge collection of latest MP3 Nohay in the superb vocals of Farhan Ali Waris.
On this page you will find the list of best Noha's in the superb vocals of Farhan Ali Waris.
Farhan Ali Waris Nohay MP3 Download -  2020 - 2021
Farhan Ali Waris Nohay MP3 Download - Listen online or download this huge collection of beautiful Noha's by Farhan Ali Abbas
More Naats By Farhan Ali Waris